You are just days away from restoring your hormone balance and feeling great again.
Regain your energy, sleep better, fire up your metabolism, increase your libido, calm your irritable mind and say goodbye to mood swings...all by taking simple steps to reconnect with ancestral ways of living?
Let me know if this sounds familiar...
Moodiness, easily irritated, or have felt like "an emotional roller coaster"

Anxious feelings or always stressed

Can't fall asleep or wake up at 2am feeling "wired but tired"

Fatigue or brain fog

You think you are eating well and exercising but can't lose weight

Acne or other skin issues

Period problems or crazy PMS

Low sex drive (or just plain non-existent)

Diagnosed with PCOS or Underactive Thyroid

In perimenopause
Struggling to get pregnant
IF THAT SOUNDS ABOUT RIGHT, THEN KEEP ON READING
You know things need to change...
you're sick of
feeling tired all the time
your short fuse is affecting your family
eating less and exercising more is NOT working
It sounds like you need a Hormone Reset
Look, I know there are 50 trillion articles online about hormone balancing, and at this point, you have probably tried to figure it out by yourself. But here's the thing...
You do not need more information, you need a coach, a guide, someone who will teach you, but most importantly be there to wipe your tears, or kick your butt (whatever you need most on the day!)
YES, there is information on WHY you need to make certain changes to your lifestyle. When we know they why, we find it easier to get motivated for change.
But the reset is broken into 3 weekly challenges, which actually inspire you to create new habits that reset your hormonal health.
Yes there are meal plans but there are also hypnosis tracks, breathwork and strength training exercises - did I mention we are changing your identity to that of a healthy, balanced, calm woman?

You deserve to feel great every single day, and I'm going to help you get there.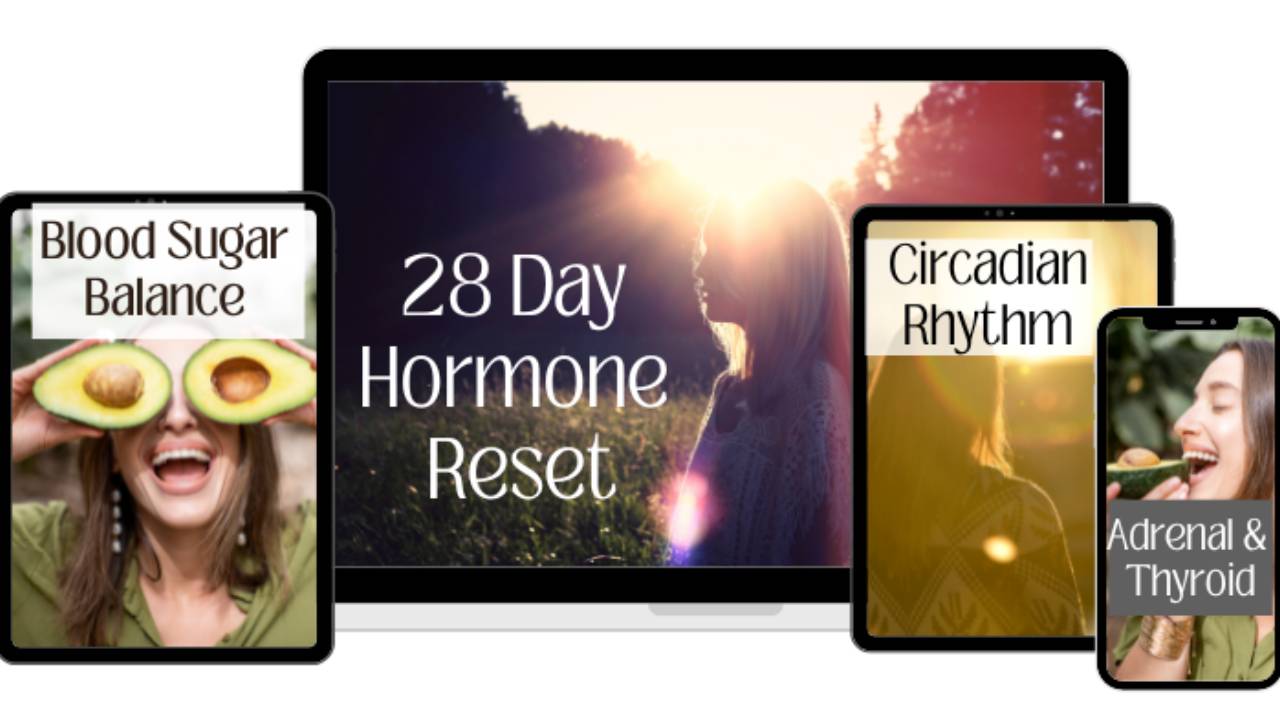 An 4 week online course with community support and the support from a certified hormone practitioner.
In order to reset your hormones
There are 3 foundational steps you need :
RESTORE CIRCADIAN RHYTHM
LESS stress, anxiety, moodiness, weight gain and trouble sleeping.
MORE calm, happiness, sleep, hunger regulation and restored ovulation and fertility are acquired just from harnessing the power of the sun.
BALANCE BLOOD SUGAR
LESS fatigue, problem periods, brain fog, cramps, headaches and acne.
MORE energy, libido, ovulation, fertility, clear skin and weight loss + PCOS can be reversed.
SUPPORT ADRENALS & THYROID
LESS exhaustion, brain fog, hair loss, weight gain, aches and pains.
MORE energy, libido, ovulation, regular cycles and improved fertility.
28 days to build the foundation that will change your health...
What you get inside the Hormone Reset
Knowledge is power, and knowing WHY you are following the 3 protocols in this reset will motivate you to make the changes needed.
Change challenges are there to ensure you DO THE WORK, not just absorb the information. Short 7 day blasts of support and motivation to keep you on track.
Hypnotherapy is the best way to reprogram the subconscious mind to make changes in your lifestyle and nutrition. Willpower does not exist. Your success all depends on the beliefs you hold deep in your mind.
MEAL PLANS, RECIPES & GUIDES
Truly nourish your hormones with good food that provides you all the right nutrients and minerals. You don't have to figure this out for yourself, its all done for you.
Get personalised support from me inside our private forum on our own app! No question goes unanswered over the 4 weeks. We finish with a live Q&A!
I am bringing in guest experts on Breathwork, strength training and yoga to ensure you are fully supported mind, emotions and body.
LET'S DIG INTO THE DETAILS
CIRCADIAN RHYTHM
Harnessing the power of the sun and its 24 hour cycle.
This week you will get:
A masterclass on how to make the hormones needed for reproduction and sleep and how to create a new circadian way of living to support your health and longevity.
Cortisol, Leptin and Melatonin - How to heal the stress, hunger & sleep hormones
7 day challenge to repair circadian rhythm disruption. This will help you be less anxious, sleep better and control your appetite and cravings. WARNING: women have been known to get pregnant more easily in this challenge!
Hypnotherapy to support your new way of living.
Yoga - sun and moon salutations
BLOOD SUGAR BALANCE
Step off the blood sugar rollercoaster of fluctuating emotions, energy & hormones
This week you will get:
Blood sugar mastery masterclass -

Blood sugar affects every cell, organ, and process in our body. It is responsible for hormones, cravings, energy crashes, irritability, anxiety and is the leading cause of PCOS and anovulation (not ovulating every month)

7 day change challenge to..you guessed it..quit sugar! Give me just 7 days and you will see the difference it makes to how you feel.

Hypnotherapy to support you in eating and enjoying the right type of foods for blood sugar balance.

30 minute strength training workout - the best kind of exercise for damaged hormones.
ADRENALS & THYROID
Start working on your stress hormones..this is a process that will go way beyond 28 days but this is your foundation.
This week you will get:
Adrenal - Thyroid connection masterclass. Feeling tired but wired, brain fog, belly fat, exhaustion, depressed? Low thyroid may be to blame, and it almost always starts in with adrenal stress.
7 day challenge on nourishing your thyroid and stress hormones, without restrictive diets.
Hypnotherapy supporting feeling safe in your body - the key for nervous system regulation
Breathwork class to lower stress hormones and release emotional stressors.
REVIEW & SUPPORT
In our last week together we bring together all that's been learned and formulate a way to move forward toward lasting hormone health.
This week you will get:
Live Q&A session with me, celebrating your wins and asking any questions you have. we formulate a plan to keep you going forward, not fall back into old habits.
What is the DUTCH Hormone test?
It's a comprehensive assessment of 35 different sex and adrenal hormones, including oestrogen, progesterone, testosterone, DHEA and cortisol along with their metabolites. It also measures daily free cortisol and cortisone patterns, the oxidative stress marker 8-OHdG, melatonin and nine organic acids including markers for vitamin B12.
In short, it can give you an excellent picture of what is going on hormonally.
The upgrade package here includes the Hormone Reset, DUTCH test + I will review your test and can discuss the findings with you on a zoom call.
*I am not a medical professional and cannot give medical advice. My role here is simply translating for you, and can point you in the right direction when taking a holistic, natural approach.
Good, because there's something I need to tell you.
If you have read this far, then i know you are serious about wanting to feel better in your body and mind.
I want you to put yourself first, for a change! It is time to accept the change challenge, to be held accountable, to stop making excuses and develop some mental toughness here, as well as physical and emotional wellbeing.
Frequently Asked Questions
Will this help me if I have PCOS, Hashimotos, Endometriosis etc?
I'm perimenopausal will this help?
I'm trying to get pregnant, will this help
Can I get a refund if I don't like the program?
Certified Holistic Hormone Practitioner, Functional Nutrition Coach & Hypnotherapist
I'M HERE TO HELP YOU RESTORE YOUR HORMONES AND LIVE YOUR MOST WELL NOURISHED LIFE!